Experience the vibrant and diverse city of Delhi with the Full-Day Private Old and New Delhi Combo Tour. Led by professional guides, this comprehensive tour takes you on a journey through historical landmarks like Humayun's Tomb and Qutub Minar. It also includes visits to iconic monuments such as India Gate and the Red Fort.
With customizable itineraries, hotel pickup, and drop-off, and comfortable private transportation, this tour offers an immersive and enjoyable experience of Delhi's rich history and culture.
Key Takeaways
Visit UNESCO World Heritage sites such as Humayun's Tomb, Qutub Minar, the Red Fort, and Jama Masjid
Explore monuments like India Gate, Parliament House, and the Lotus Temple
Customize the itinerary to suit your preferences
Enjoy the convenience of hotel pickup and drop-off
Historical Gems: Explore UNESCO World Heritage Sites in Old and New Delhi
The tour includes visits to UNESCO World Heritage sites such as Humayun's Tomb, Qutub Minar, the Red Fort, and Jama Masjid.
Along With these historical gems, the tour also takes you to explore the unexplored neighborhoods of Old and New Delhi. You'll have the opportunity to wander through the narrow lanes and bustling markets, immersing yourself in the vibrant atmosphere of the city.
As you explore these neighborhoods, you'll also have the chance to indulge in the culinary delights of Delhi. From street food stalls offering mouthwatering chaats and kebabs to authentic Indian restaurants serving delectable curries and biryanis, you'll get a taste of the diverse and flavorful cuisine that Delhi has to offer.
This tour is perfect for those who want to experience the rich history and cultural diversity of Delhi while also exploring its hidden culinary treasures.
Iconic Landmarks: Discover the Famous Monuments and Architectural Wonders of Delhi

Visitors on the tour can explore famous monuments and architectural wonders of Delhi, such as Humayun's Tomb, Qutub Minar, the Red Fort, and Jama Masjid. These iconic landmarks showcase the rich history and architectural marvels of the city.
Humayun's Tomb, a UNESCO World Heritage site, is a stunning example of Mughal architecture. Qutub Minar, another UNESCO site, is a towering structure that dates back to the 12th century.
The Red Fort, known for its impressive red sandstone walls, was once the residence of Mughal emperors. Jama Masjid, one of India's largest mosques, is a masterpiece of Islamic architecture.
Exploring these landmarks allows visitors to enjoy the cultural heritage of Delhi and appreciate its architectural brilliance.
Cultural Immersion: Immerse Yourself in the Rich History and Vibrant Culture of Delhi

Immersing oneself in the rich history and vibrant culture of Delhi is a transformative experience. Delhi offers a stack of opportunities to indulge in authentic Delhi delicacies and culinary experiences.
From mouthwatering street food to exquisite fine dining, Delhi's local cuisine is sure to tantalize your taste buds. Explore the bustling markets and food stalls to savor specialties like chaat, kebabs, and butter chicken.
Plus, Delhi is a haven for traditional arts and crafts. Take the time to explore the city's various art forms, such as pottery and textile weaving. Visit the traditional artisans and witness their skilled craftsmanship firsthand. Delve into the intricacies of their techniques and learn about the cultural significance behind each art form.
Delhi truly offers a cultural immersion like no other.
Customizable Itinerary: Tailor the Tour to Your Preferences and Interests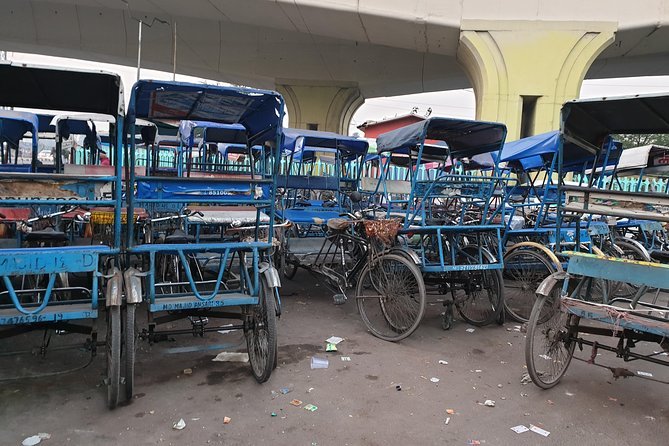 Tourists have the option to personalize the itinerary according to their preferences and interests. They can tailor the tour to create a truly customized and personalized experience. Here are some customization options available:
Choose the attractions and landmarks you want to visit: With this tour, you've the flexibility to select the specific UNESCO World Heritage sites, monuments, and temples that you want to explore. Whether you're interested in historical sites like Humayun's Tomb and the Red Fort, or modern landmarks like India Gate and the Lotus Temple, you can create an itinerary that matches your interests.
Decide on the duration of the tour: While the suggested itinerary for this full-day tour is 8-9 hours, you've the freedom to adjust the duration according to your preferences. Whether you want to spend more time at a particular location or shorten the tour, the itinerary can be customized to suit your schedule.
Include additional activities: If there are specific activities or experiences you want to incorporate into the tour, such as a rickshaw or Tuk Tuk ride, the tour can be customized to include these elements. You can also request a visit to a local market or a stop at a traditional Indian restaurant for a delicious lunch.
With these customization options, you can create a personalized experience that aligns with your interests and preferences.
Convenient and Comfortable: Enjoy Hotel Pickup and Drop-Off and Travel in a Private Vehicle
Travelers can experience convenience and comfort during their Delhi tour with the option of hotel pickup and drop-off, as well as transportation in a private vehicle.
Hotel pickup benefits include saving time and effort by not having to arrange transportation to the tour starting point. It eliminates the stress of navigating unfamiliar streets and dealing with public transportation.
Moreover, travelers can relax and enjoy the comfort of a private vehicle throughout the tour. This allows for a more personalized and flexible experience, as the itinerary can be customized to suit their preferences.
Whether it's visiting UNESCO World Heritage sites, exploring monuments, or immersing in Delhi's rich history and culture, having a private vehicle ensures a smooth and hassle-free journey.
The combination of hotel pickup and transportation in a private vehicle provides convenience and ease for travelers during their Delhi tour.
Expert Guide: Learn From Knowledgeable Guides About Delhi's Fascinating History and Culture
Delhi's captivating past comes alive as travelers delve into the city's intriguing historical narrative with the expert guides. These knowledgeable guides provide local insights that allow visitors to discover hidden gems and lesser-known facts about Delhi's culture and heritage. With their in-depth knowledge, they take travelers on a journey through time, unraveling the rich tapestry of Delhi's history.
From the ancient architectural marvels like Humayun's Tomb and Qutub Minar to the grandeur of the Red Fort and Jama Masjid, these guides provide fascinating stories and anecdotes that bring the city's past to life. They also shed light on the more recent landmarks such as India Gate, Parliament House, and the Lotus Temple, offering a comprehensive understanding of Delhi's cultural and historical significance.
Visitors are sure to leave with a deeper appreciation for this vibrant city's heritage.
Positive Reviews: Hear What Others Have to Say About Their Satisfying and Recommended Tour Experience
Visitors have expressed their satisfaction and high recommendations for the tour experience, highlighting the comprehensive and enjoyable exploration of Delhi's history and culture.
Tourist testimonials have praised the personalized experience provided by the knowledgeable guides, Manu and Deepak. These guides have been commended for their interesting insights into Delhi's history and culture, making the travelers feel comfortable throughout the tour. The guides have also been praised for their accommodating nature, as they willingly customize the itinerary according to the preferences of the travelers. Moreover, the guides' excellent English-speaking skills have made communication easy and understandable.
The overall organization of the tour has been highly appreciated, with prompt and reliable hotel pickups and drop-offs. Tourists have felt safe and secure throughout the tour, with the tour company, A Star Tours, implementing safety measures such as reliable drivers and safe transportation. The tour has been described as well-planned and organized, offering a comprehensive experience of Delhi's landmarks, temples, markets, and delicious Indian cuisine.
The positive feedback regarding the customer service of A Star Tours has been noteworthy, with the staff being responsive, flexible, and maintaining contact with the travelers even after the tour. The all-inclusive package has provided convenience and ease for the travelers, who've expressed their satisfaction and high recommendations for the tour experience.
Frequently Asked Questions
Can I Choose Specific UNESCO World Heritage Sites to Visit During the Tour?
Yes, the itinerary for the Full-Day Private Old and New Delhi Combo Tour can be customized to suit your preferences. You can choose specific UNESCO World Heritage sites to visit during the tour. Personalized sightseeing is available.
Is There a Specific Time Limit for Exploring Each Monument and Landmark?
There are no specific time limits for exploring each monument and landmark during the Full-Day Private Old and New Delhi Combo Tour. However, a recommended itinerary completes in 8-9 hours.
Can I Request a Specific Type of Cuisine for the Lunch Included in the Tour?
Yes, participants can request specific types of cuisine for the lunch included in the tour, including vegetarian options. The tour company is accommodating and willing to cater to dietary restrictions and preferences.
Are There Any Additional Fees or Charges Not Mentioned in the Inclusions Section?
Yes, there are additional fees for specific UNESCO sites not mentioned in the inclusions section. It is recommended to check with the tour company for detailed information regarding these fees.
Is There a Minimum or Maximum Number of Participants Required for the Tour to Proceed?
The tour does not have a minimum or maximum participant requirement, allowing flexibility for solo travelers or larger groups. Participants can choose from a variety of UNESCO sites to visit during the tour.
The Sum Up
To sum it up, the Full-Day Private Old and New Delhi Combo Tour offers a fantastic opportunity to explore the historical and cultural gems of Delhi. With professional English-speaking guides, customizable itineraries, and comfortable transportation, this tour ensures an enriching and enjoyable experience.
The positive reviews from satisfied customers highlight the knowledgeable guides, well-organized tour, and excellent customer service.
Don't miss the chance to enjoy Delhi's vibrant culture and fascinating history on this highly recommended tour.