Take a private tour to the Giza Pyramids, Memphis City, and Sakkara Pyramid for an immersive journey into Egypt's ancient wonders. Led by a qualified Egyptologist, this full-day tour offers a fascinating exploration of history.
Visit the iconic Giza pyramid complex, the ancient city of Memphis, and the archaeological site of Sakkara. Experience the grandeur of the three Great Pyramids and the Sphinx, with hotel pickup and drop-off included.
Choose from multiple departure times to suit your schedule and prepare for an unforgettable adventure.
Key Takeaways
Price varies based on group size, starting from £16.30
Full-day tour includes visits to the Giza pyramid complex, Sakkara, and Memphis
Qualified Egyptologist guide provided
Hotel pickup and drop-off included
Historical Background of the Giza Pyramids, Memphis City, and Sakkara Pyramid

The historical background of the Giza Pyramids, Memphis City, and Sakkara Pyramid provides a rich and fascinating insight into ancient Egyptian civilization.
The construction techniques of the pyramids were a remarkable feat of engineering for their time. The pyramids were built using a combination of limestone blocks and mortar, with precise measurements and alignments. The Great Pyramid of Giza, in particular, is the largest and most well-known pyramid, standing at over 450 feet tall.
The Sphinx, a mythical creature with the body of a lion and the head of a human, holds great significance in ancient Egyptian culture. It's believed to represent the pharaoh and symbolize power and wisdom. The Sphinx is also closely associated with the afterlife and is often depicted as a guardian of the pyramids.
Tour Details and Itinerary
The full-day itinerary includes a visit to the Giza pyramid complex, Sakkara, and Memphis. This private tour offers a unique opportunity to explore the ancient wonders of Egypt with a qualified guide.
Here are four key details about the tour:
Qualified Egyptologist guide: The tour includes a knowledgeable guide who'll provide detailed information about the Giza pyramids, Memphis, and Sakkara. They'll share interesting facts about the pyramids' construction, purpose, and historical significance.
Best time to visit: The tour can be enjoyed year-round, but the best time to visit Giza, Memphis, and Sakkara is during the cooler months of October to April. The temperatures are more comfortable, making it easier to explore the sites.
Inclusions: The tour includes hotel pickup and drop-off, ensuring a convenient experience. Bottled water is provided to keep you hydrated throughout the day. Tipping is optional, and lunch at a local restaurant can be arranged if desired.
Private tour: This tour offers a more personalized experience, allowing you to ask questions and explore at your own pace. It's ideal for those who want to dive deeper into the history and mysteries of the ancient Egyptian civilization.
Experiences With the Guide: Positive and Negative Reviews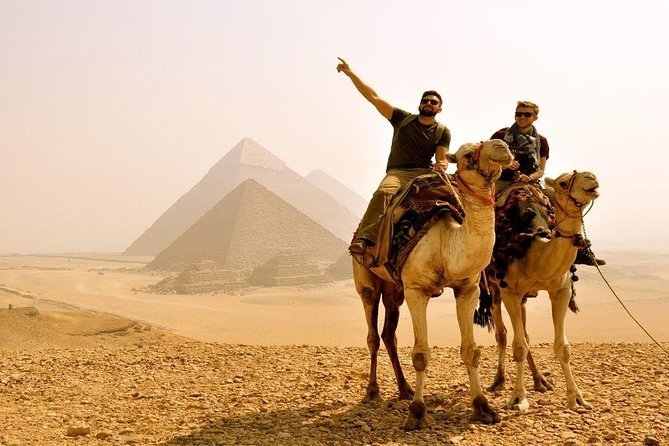 Positive and negative reviews highlight the experiences travelers had with their guide, Mr. Mohammad, during the tour. Some travelers praised Mr. Mohammad for being helpful, accommodating, and providing a brilliant tour. They found him to be knowledgeable and appreciated his accessible and enriching explanations of Egypt's history.
However, other travelers had negative experiences with Mr. Mohammad. They felt that he was always trying to get commission in everything, and they accused him of acting dishonestly and trying to cheat them. Some claimed that he postponed lunch for over two hours in order to find a place where he could receive commission. Plus, they mentioned that he tried to increase prices and take commission at various stops along the tour.
These negative experiences raised concerns about Mr. Mohammad's honesty and integrity as a guide.
Experiences With the Tour: Positive, Negative, and Mixed Reviews
Some travelers found the tour to be disappointing and felt that it didn't meet their expectations. Here are some key points regarding the tour guide performance and customer satisfaction levels:
Tour guide performance:

Negative experiences highlighted guide's attempt to get commission and dishonest behavior.
Positive experiences praised guides for being helpful, accommodating, and providing enriching explanations.

Customer satisfaction levels:

Negative experiences mentioned limited English, rushed itinerary, and visits to unauthorized shops.
Positive experiences expressed great historical experience, interesting explanations, and flexibility in the tour.
Mixed experiences described detailed history explanations, but disappointment with surprise shopping visits.
It is important for tour operators to address these concerns and ensure consistent high-quality experiences for customers. Improving guide training, communication skills, and itinerary planning can enhance customer satisfaction levels and make the tour more enjoyable for all participants.
Tips for a Memorable and Enjoyable Private Tour to Giza Pyramids, Memphis City, and Sakkara Pyramid

During a full-day tour, visitors can explore the Giza pyramid complex, Sakkara, and Memphis for an unforgettable experience. At the Giza Pyramids, travelers can marvel at the three Great Pyramids and the iconic Sphinx.
In Memphis City, they can explore the ancient ruins and see the colossal statue of Ramses II.
Finally, at the Sakkara Pyramid, visitors can witness the Step Pyramid and the fascinating ancient tombs.
To ensure a memorable and enjoyable private tour, it's important to be aware of scams and tourist traps. Travelers should be cautious of guides who try to get commissions or bring them to unauthorized souvenir shops.
It's advisable to research and choose a reputable tour company that provides qualified guides. Plus, setting clear expectations and communicating preferences with the guide can help tailor the tour to individual interests.
Frequently Asked Questions
Are the Entrance Fees to the Giza Pyramid Complex, Sakkara, and Memphis Included in the Tour Price?
Yes, the entrance fees to the Giza pyramid complex, Sakkara, and Memphis are included in the tour price. The private tour offers customization options, transportation, and a qualified guide. Dress codes and restrictions may apply.
Is Transportation Provided Between the Different Sites During the Tour?
Transportation between sites is provided during the tour. Visitors have various transportation options, ensuring a smooth and convenient journey throughout the tour itinerary.
Can the Tour Be Customized to Include Additional Attractions or Extend the Duration of the Tour?
Yes, the tour can be customized to include additional attractions or extend the duration. There are customization options available to accommodate specific preferences and make the tour more flexible in terms of duration.
Are There Any Restrictions or Dress Codes to Keep in Mind When Visiting the Pyramids and Other Sites?
When visiting the pyramids and other ancient sites, it is important to dress modestly and comfortably, covering shoulders and knees. It is also respectful to be aware of and follow any cultural or religious customs in these areas.
How Many People Are Typically Included in a Private Tour Group?
Private tour group sizes for the Giza Pyramids, Memphis City, and Sakkara Pyramid tour can vary. The typical tour duration is a full day, allowing for ample time to explore these historical sites.
The Sum Up
To sum it up, the private tour to Giza Pyramids, Memphis City, and Sakkara Pyramid offers a unique and immersive experience for travelers interested in exploring the ancient wonders of Egypt.
With the guidance of a qualified Egyptologist, visitors can delve into the rich history and heritage of the region, visiting iconic sites such as the Great Pyramids and the Sphinx.
The tour provides convenience, flexibility, and a seamless experience, ensuring a memorable trip for all.