Join a private full day tour of Jaipur with a knowledgeable guide and uncover the wonders of the Pink City.
Explore iconic landmarks such as the Amber Fort and Hawa Mahal, while learning fascinating historical insights.
Marvel at the world's largest stone astronomical observatory, Jantar Mantar.
With hassle-free hotel transfers and comfortable transportation in an air-conditioned vehicle, this enriching and memorable experience promises to leave visitors in awe of Jaipur's vibrant culture and heritage.
Key Takeaways
The tour includes top sights in Jaipur such as Amber Fort and Hawa Mahal.
Hotel transfers are provided for a hassle-free experience.
The tour is conducted by knowledgeable guides who provide historical and contextual information.
Visitors highly recommend the tour and the services of the tour company.
Tour Highlights
The tour highlights of Jaipur include a visit to Amber Fort and Hawa Mahal, as well as exploring the Pink City with a knowledgeable guide. These are must-see attractions in Jaipur that perfectly capture the city's rich history and architectural beauty.
At Amber Fort, you'll be mesmerized by its grandeur and intricate details. As you explore the fort, you'll feel transported back in time, imagining the royal life of the Rajput kings.
Hawa Mahal, also known as the Palace of Winds, is another iconic attraction in Jaipur. Its unique architecture and 953 small windows make it a true marvel to behold.
And of course, exploring the Pink City itself is a delight. With its bustling bazaars, vibrant streets, and stunning architecture, you'll get a true taste of Jaipur's cultural essence. With a knowledgeable guide by your side, you'll learn fascinating stories and historical anecdotes that make your journey even more enriching.
Don't miss the chance to explore the Pink City in a day and experience the magic of Jaipur's must-see attractions.
Inclusions and Itinerary
Visitors can review the inclusions and itinerary for the private full day tour of Jaipur with a knowledgeable guide. The tour includes visits to the top sights in Jaipur, such as the impressive Amber Fort and the iconic Hawa Mahal. Hotel transfers are provided for a hassle-free experience, and the tour is conducted in an air-conditioned car.
It's important to note the dress code for the tour, which is smart casual. Sleeveless tops and short shorts aren't allowed in the temple. Comfortable shoes are recommended for moderate walking throughout the day.
Along With exploring the historical sites, the tour also offers optional stops at top shopping spots in Jaipur. Visitors are advised to wait until the tour to go shopping for authentic art and block print. It's recommended to ask for the detailed version of the tour to avoid being taken shopping unnecessarily.
Traveler Tips and Recommendations
One helpful tip for travelers is to check reviews by Viator travelers for additional insights and recommendations.
When visiting Jaipur, it's important to explore the city beyond just the popular tourist attractions. To truly experience the local culture, make sure to visit the must-visit shopping spots in Jaipur. These spots offer a wide range of authentic art and block print products that make for perfect souvenirs.
Plus, don't miss out on trying the best local restaurants for authentic Rajasthani cuisine. From dal baati churma to gatte ki sabzi, these restaurants serve up delicious dishes that will give you a true taste of Rajasthan.
Reviews and Testimonials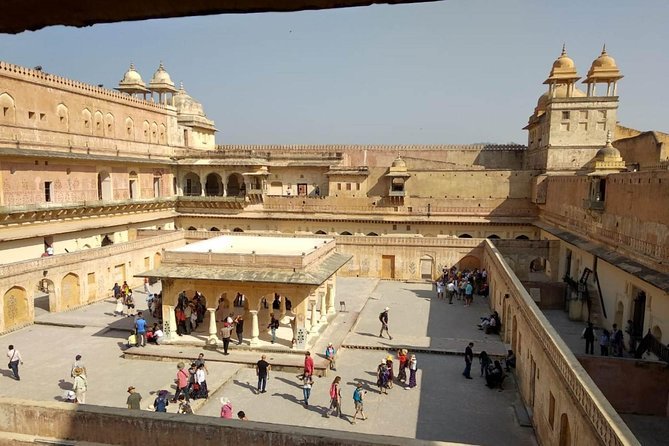 Visitors highly recommend the tour and are motivated to leave positive feedback, as it exceeds their expectations and provides a delightful and comfortable experience. Customer satisfaction levels are through the roof, thanks to the impact of personalized recommendations given by the tour guide.
The knowledgeable guides not only provide historical and contextual information, but they also go above and beyond to make the tour special for each visitor. Whether it's suggesting an earlier start to beat the heavy traffic and travelers, or demonstrating kindness by encouraging visitors to give food to the homeless, these personalized touches leave a lasting impression.
The drivers also play a role in ensuring a comfortable tour, surprising visitors with thoughtful gestures like a birthday cake. This level of attention to detail and genuine care is what sets this tour apart and keeps visitors coming back for more.
Knowledgeable Tour Guides
Five-star rated tour company, XYZ Tours, prides itself on providing knowledgeable tour guides who enhance the visitor experience with in-depth information and historical insights.
When it comes to exploring a new destination, having the best tour guide can make all the difference. XYZ Tours understands the importance of local expertise and ensures that their guides are well-versed in the history, culture, and hidden gems of each location.
These guides go beyond the typical tourist information and provide a deeper understanding of the places visited. Whether it's sharing fascinating anecdotes, pointing out architectural details, or recommending the best local cuisine, XYZ Tours' tour guides are dedicated to making the visitor's experience unforgettable.
Professional and Courteous Drivers
Are the drivers at XYZ Tours professional and courteous, or do they have a different reputation?
When it comes to the importance of safe and reliable transportation, the role of drivers in enhancing the overall tour experience can't be underestimated. At XYZ Tours, the drivers are known for their professionalism and courteousness, ensuring that guests have a comfortable journey throughout their tour. They're skilled and experienced, maneuvering through the chaotic city roads of India with ease and calmness.
Not only do they prioritize the safety of their passengers, but they also go the extra mile to make the experience memorable. Visitors have praised their sociability, cleanliness of the vehicles, and even surprising them with special treats on occasions like birthdays.
With XYZ Tours, you can rest assured that your journey will be smooth, enjoyable, and in the hands of reliable and friendly drivers.
Positive Experiences and Surprises
A few unexpected surprises during the tour, such as a personalized cake and thoughtful recommendations, have made the visitors' experience with XYZ Tours even more enjoyable.
The tour guide goes above and beyond to treat visitors with kindness and thoughtfulness. Not only does the guide provide historical and contextual information, but they also offer personalized recommendations based on the visitors' interests.
The driver, on the other hand, surprises visitors with a cake on special occasions, like birthdays, adding a delightful touch to the tour. Visitors appreciate the comfortable and spacious car provided by the driver, making their journey even more pleasant.
These small acts of kindness and thoughtfulness contribute to the overall satisfaction of the tour, leaving visitors with wonderful memories and a desire to recommend XYZ Tours to their friends and family.
Overall Satisfaction and Future Plans
How satisfied are visitors with the tour and what're their future plans with XYZ Tours? Here is what visitors have to say about their experience:
High satisfaction levels: Visitors highly recommend the tour and the services of XYZ Tours. The tour exceeds expectations and provides a delightful and comfortable experience. Positive feedback from visitors motivates the tour company to continuously provide high-quality services.

Future plans: Many visitors express their intention to return and take another tour with XYZ Tours. They appreciate the knowledgeable guides who provide historical and contextual information. The tour company looks forward to welcoming visitors again and serving them in the future.

Tour company improvements: Visitors appreciate the professionalism of the tour company but suggest some improvements. They'd like to see more flexibility in the tour itinerary and more personalized recommendations from the guides. XYZ Tours can work on incorporating these suggestions to enhance the overall tour experience.
Frequently Asked Questions
How Long Does the Private Full Day Tour of Jaipur Typically Last?
A full day tour of Jaipur typically lasts around 8-10 hours. Visitors can expect to explore top attractions like Amber Fort and Hawa Mahal, with a knowledgeable guide providing insights and a comfortable car for transportation.
Are Meals Included in the Tour Package?
Yes, dietary restrictions can be accommodated for meals on the tour. Visitors can request special meals by informing their guide or the tour company in advance.
Can I Customize the Tour Itinerary to Include Specific Attractions or Activities?
Yes, visitors can customize the tour itinerary to include specific attractions or activities. The knowledgeable guides provide local recommendations to enhance the experience and make it personalized for each visitor.
Are Entrance Fees to Attractions Included in the Tour Price?
Entrance fees to attractions are included in the tour price. The pricing structure ensures that visitors can enjoy all the sights without any additional costs.
Is Hotel Pickup and Drop-Off Available for Accommodations Outside of Jaipur City?
Hotel pickup and drop-off are available for accommodations outside of Jaipur city. The tour provides convenient transportation options, ensuring a hassle-free experience for visitors staying in different locations.
The Sum Up
Other Great Tours & Activities
Looking to explore more of India? Here are a few other tour options that you might find interesting:
These are just a few options among many other exciting tours and activities available. Whether you're interested in exploring the rich history of Delhi, experiencing the vibrant Bollywood culture, or venturing to iconic landmarks like the Taj Mahal, there's something for everyone to enjoy in India.